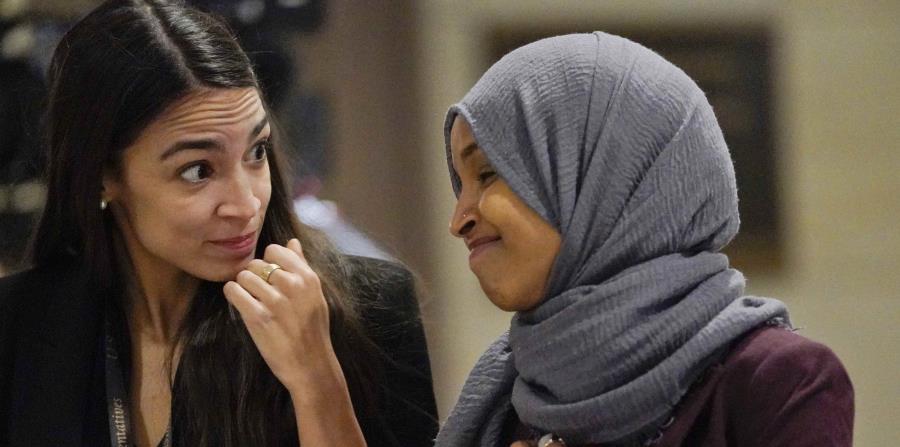 Washington – El presidente de Estados Unidos, Donald Trump, atacó hoy a las congresistas demócratas más liberales, un grupo que ha incluido a Alexandria Ocasio Cortez, y las exhortó a regresar a sus países de origen con "gobiernos corruptos".
Trump no las menciona por nombre, pero se interpreta que hace referencia a Ocasio Cortez, Ayanna Pressley, Ilhan Omar y Rashida Tlaib.
So interesting to see "Progressive" Democrat Congresswomen, who originally came from countries whose governments are a complete and total catastrophe, the worst, most corrupt and inept anywhere in the world (if they even have a functioning government at all), now loudly……

— Donald J. Trump (@realDonaldTrump) July 14, 2019
….and viciously telling the people of the United States, the greatest and most powerful Nation on earth, how our government is to be run. Why don't they go back and help fix the totally broken and crime infested places from which they came. Then come back and show us how….

— Donald J. Trump (@realDonaldTrump) July 14, 2019
….it is done. These places need your help badly, you can't leave fast enough. I'm sure that Nancy Pelosi would be very happy to quickly work out free travel arrangements!

— Donald J. Trump (@realDonaldTrump) July 14, 2019
"Interesante ver a las congresistas demócratas "progresistas", que son originales de países cuyos gobiernos son una catástrofe total y completa, la peor, la más corrupta e inepta en cualquier parte del mundo (si es que tienen un gobierno que funcione), ahora en voz alta. …..y  viciosamente diciéndole a la gente de los Estados Unidos, la nación más grande y poderosa de la tierra, cómo se debe dirigir nuestro gobierno. ¿Por qué no regresan y ayudan a reparar los lugares totalmente rotos e infestados por el crimen de los que vinieron? Luego vuelvan y muéstrennos cómo se hace.  Estos lugares necesitan mucha ayuda, no puedes irte lo suficientemente rápido. ¡Estoy seguro que a Nancy Pelosi le complacerá hacer rápidamente los arreglos de ese viaje, gratis!", tuiteó esta mañana el presidente Trump.
Las cuatro congresistas liberales han estado en una controversia reciente con la speaker Pelosi, pero son críticas muy duras del presidente de Estados Unidos.
Ocasio Cortez, la más famosa del grupo, es de origen puertorriqueño, nacida en Nueva York. Omar es de origen somalí. Y Tlaib es de origen palestina. Con excepción de Omar, las demás nacieron en Estados Unidos.
La más presente en el reciente debate con la speaker Pelosi ha sido la puertorriqueña Ocasio Cortez.
Los tuits de Trump, una cadena de tres, tienen lugar además días después de que el gobierno de Puerto Rico fuera sacudido por nuevos casos de corrupción y un chat cuya controversia puede poner fin al futuro político del gobernador Ricardo Rosselló Nevares.