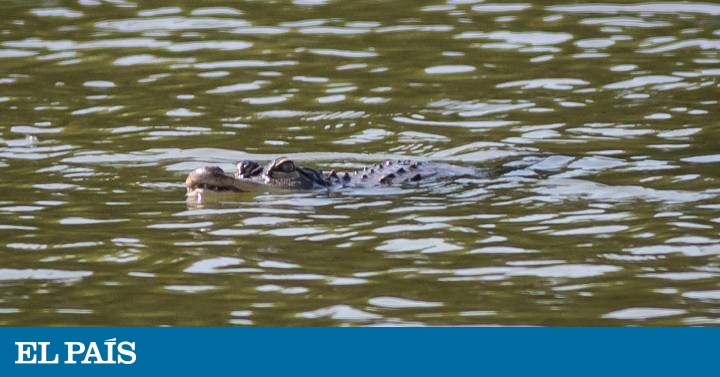 Un caimán, un reptil de regiones tropicales, ha encontrado un nuevo hogar en el estanque de un parque urbano del oeste de Chicago, para sorpresa de los vecinos de la tercera ciudad de los Estados Unidos que el último invierno sufrió temperaturas polares. La policía confirmó que el reptil había sido visto el martes en el parque Humboldt. Este jueves todavía no ha sido capturado a pesar del dispositivo desplegado para conseguirlo.
Las autoridades de la ciudad quieren que el caimán sea atrapado para reubicarlo en un zoo donde tenga atención veterinaria, según ha explicado un portavoz de la policía. 
UPDATE – We've independently confirmed the alligator is in the lagoon and state reptile specialists say its between 4 and 5 feet long. The reptile will be humanely trapped tonight and relocated to a zoo for veterinary evaluation

— Anthony Guglielmi (@AJGuglielmi) 9 de julio de 2019
Las temperaturas en Chicago han rondado esta semana los 30 grados, la adecuada para que los caimanes estén más activos, de acuerdo con la Comisión para la conservación de la vida salvaje de Florida. Los caimanes americanos normalmente viven en humedales de agua dulce y pantanos en el sureste de Estados Unidos.
Los caimanes pueden pasar hasta dos meses sin comer y capturarlo podría llevar mucho tiempo, dijo Rich Crowley, presidente de una ONG dedicada a los reptiles y anfibios. 
"El caimán sigue siendo muy tímido", dijo Crowley. En su opinión, es probable que el nuevo habitante del parque Humboldt haya sido una mascota que está acostumbrándose a vivir en libertad. Crowley estima que el animal tiene entre cinco y 10 años. Los caimanes pueden vivir hasta los 80.
Las autoridades locales han advertido a los vecinos que desistan de intentan capturar al animal. Para lograrlo cuentan con un experto, conocido como Alligator Bob, un voluntario que no quiere revelar su identidad, para atrapar al cocodrilo. Alligator Bob colabora con el Ayuntamiento de Chicago abaja con funcionarios de Chicago para capturar animales exóticos.
"Alligator Bob es el héroe que merecemos ahora. Dejémosle espacio y permitamos que atrape de forma humanitaria a nuestro nuevo amigo ", dijo la policía en respuesta a las ofertas recibidas para capturar al caimán.